Great Sale and Thank You!!!
John D. Sands Estate & Peggy Vess Sands
Auction Date: Saturday, July 23rd at 10:00 A.M.
DIRECTIONS: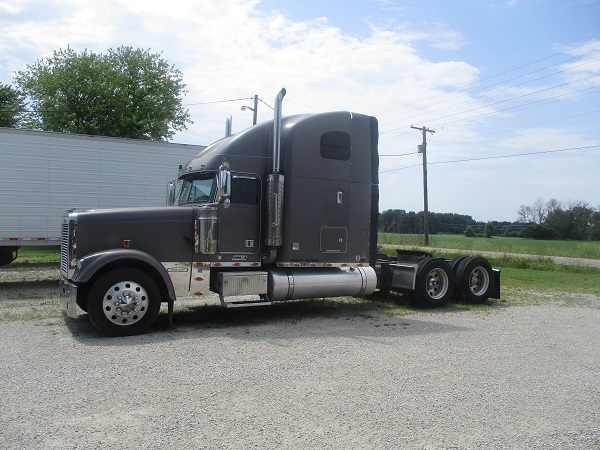 -2014 Cascadia Freightliner, Cummins Diesel,
with Fuller Transmission, 299k miles
-2013 (2 ea.) Cascadia Freightliners Cummins
Diesel, with Fuller Transmission, 333k miles
-2012 (2 ea.) Cascadia Freightliners Cummins
Diesel, w/ Fuller Transmission, 475k & 508k mi.
-2010 Cascadia Freightliner Cummins Diesel, w/ Fuller Transmission 787k miles
-2007 Classic Freightliner w/ CAT Engine, 930k miles
___________________________________________
2014 Great Dane 53ft Refrigerated Trailer
2013 2ea. Great Dane 53ft Refrigerated Trailers
2011 Great Dane 53ft Refrigerated Trailer
2009 Great Dane 53ft Refrigerated Trailer
2007 2ea.Great Dane 53ft Refrigerated Trailers
2000 2ea. Wabash 53ft. Refrigerated Trailer
2000 53ft. Dorsey Refrigerated Trailer
1997 48ft. Wabash Storage Trailer
1992 2ea. 48' Great Dane Storage Trailer
1990 48' Fruehauf Storage Trailer
*All above trailers are 102in. wide
_______________________________________________
595 International Tractor W/2255 Loader, with wide front
3 Point Hitch 8 ft. Rotary Mower w/ Quick Hitch
RB-850 Woods 3pt Hitch 8ft Blade w/ Tilt & Directional Hydraulic Control
Yale LP Gas Fork Truck w/ Hard Tires
20ft x 7ft Steel Flatbed Dovetail Trailer w/ Steel Floor & Tandem Axle
10ft x 5ft Single Axle Lawn Equipment Trailer w/ Ramp
C65 Chevrolet Dump Truck (454 cu. in., V8
Engine)
Tri-Axle Pull Type, Flat Bed Old Trailer
500 Gal. Fuel Tank
(2) Overhead Fuel Tanks
(3) 275-Gal. Oil Tanks
Load Stabilizers
Truck Oil Filter Inventory
10 ft. Fiberglass Step Ladder
6 ft. Fiberglass Step Ladder
20 ft. Aluminum Extension Ladder
Aluminum Ramps
Log Chains
3 Chain Boomers
Reed Mfg. Co. Large 8" Heavy Duty Vise
24in. Crescent Type Wrench
4 Large Opened Wrenches
Lawson Assorted Boxes – 32 Drawers
Soldering Gun
Skil Sawzall
Pipe Threading Tools
3 Tanks of Refrigerant
Several Hose Clamps
Stack Tool Box & Misc. Tools
Splitting Maul
Impact Tools
5 Bottle Jacks
Gallons of Antifreeze/Coolant
1 Tank of 404 Ref
Floor Model Drill Press
Electric Bench Grinder
Electric Grinder on Pedestal
Craftsman Welder & Welding Hoods
Welding Bench w/Vise & Tools
Welding Rod
Snap On Mig Welder
Cutting Torches
Large Torpedo Kerosene Heater
Heated Jenny Pressure Washer
Kingcraft Generator 6,000 Watt, 13hp
Seal & Bearing Inventory
Gas Powered Water Pump
Brake Drums
Several Trailer Tires & Retreads
Twin Cylinder, 2 Stage Air Compressor
2 Floor Jacks
Tire Tool
Grease Barrel and Pump
Bins of Nuts & Bolts
*Terms of Personal Property: Cash preferred or approved check. For your convinience we have electronic clerking and cashiering.
FOOD AND RESTROOMS AVAILABLE
EVERYTHING SOLD "AS IS, WHERE IS" AND A FORKLIFT AND LOADER TRACTOR WILL BE THERE FOR LOADING.
812-249-5090 OR 1-877-696-5099
Parcel Numbers:
Legal Description:
Real Estate Taxes:
Terms:
Possession: DAY OF SALE
Email: auctions@jswalls.com
FOR PRIVATE SHOWING CALL: 812-249-5090 or 1-877-696-5099
AGENCY: Johnny Swalls Auction, Inc. and it's Representatives are Excluve Agents of the Seller.
AUCTIONEER/BROKER: Col. Johnny Swalls, CAI, GPPA, CAGA, CREA, AU1026257, RB14033902, AC30700074.
1,037 Real Estate Parcels Sold of the last 1,044 Listed!!

ADDITIONAL PHOTOS