SOLD!
PP Auction, Lash Estate, Rockville
Lash Estate Auction DOORS OPEN AT 9AM Saturday, November 15th, 2014 at 10:00 AM Location: Clark's Reception Hall, on the east side of Rockville, IN on US 36 Estate of Margaret M. Lash For more information call David Lash 765-592-0707
November 15, 2014
DIRECTIONS: Clark's Reception Hall, on the east side of Rockville, IN on US 36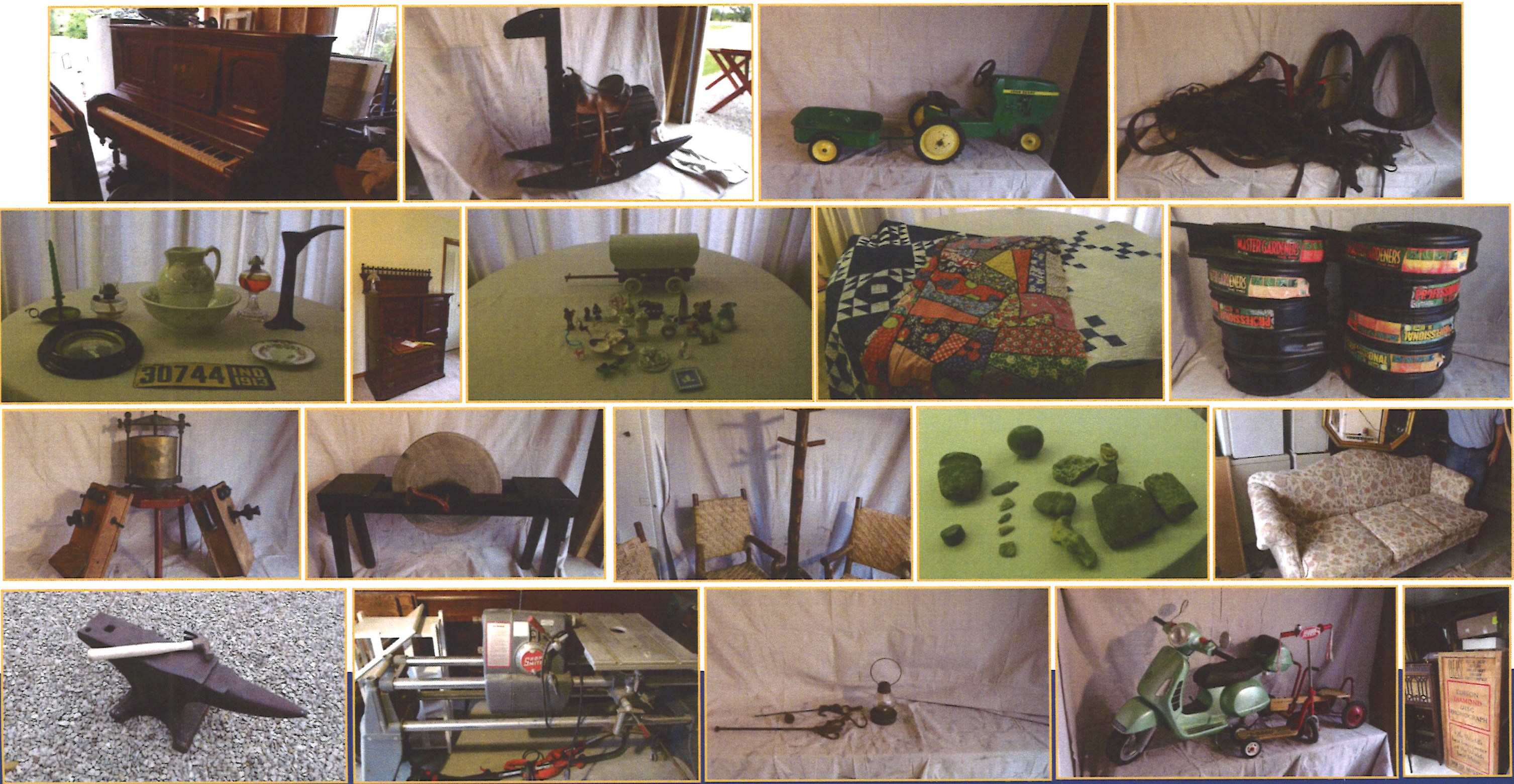 List of Auction Items: Dictionary stand, Henry Link lime oak full size bed/matching 9 drawer dresser & mirror, Henredon end tables, prison made hickory furniture, Homer tea cart, 38 ft. round marble coffee table; 1920's oak round table/chairs, .38 Special (snub-nose) revolver/holster; Shop Smith and old tools; John Deere peddle tractor/wagon, original sleigh bells, old post cards from 1930's, many books (some old and some signed); older costume jewelry, 1948-49 Ladies H. Jour. magazines, some of the awards won in the national races by Don Lash "America's First Great Long Distance Runner" (1988 Sports Illustrated magazine); Eschenbach Gerold-pozellan figurine #5915, Bavarian tea set, snack set, cut glass, china figurines (Enesco - Japan), commemorative plates, Royal Daulton china floral baskets, hobnob lamps, doilies, linens, table cloths, quilts, oval framed pictures, oil lamps, 1937 T.H. Trib. (coming WWII), miniatures, antique pitcher and bowl, Eastlake dresser/mirror, 1913 Ind. License plate, hand crank Stromberg-Carlson and Western Electric wall telephones, 1950's telephone; Edison Disc Phonograph model C250 (runs very well) with its original (very rare & good condition) shipping crate (c.1919) plus disc records (call for list of titles), historic anvil, box of fossils & Indian artifacts, 150+ year old mounted grinding wheel, Neuman Bros. pump organ in piano case/stool, high back solid oak rocker, upholstered oak rocker, shoe last, lard press, R. R. Lantern, unique wood hobby horse/leather youth saddle, complete leather horse harness with hames and collars, walnut bachelors chest; folding chairs, new black plastic water hose, new 200 linear feet of Professional Master Gardener landscaping edging, 14" computer scanner, filing cabinets, files, envelopes, colored copy paper, office supplies and many more items too numerous to mention here.


Announcements at the auction take precedence over printed advertising.

Lunch will be served

Parcel Numbers:
Legal Description:
Real Estate Taxes:

Terms:

Possession: Day of Auction

Email: auctions@jswalls.com
FOR PRIVATE SHOWING CALL: 812-249-5090 or 1-877-696-5099

AGENCY: Johnny Swalls Auction, Inc. and it's Representatives are Excluve Agents of the Seller.

AUCTIONEER/BROKER: Col. Johnny Swalls, CAI, GPPA, CAGA, CREA, AU1026257, RB14033902, AC30700074.

1,037 Real Estate Parcels Sold of the last 1,044 Listed!!

There are currently no Additional Photos for this Property
ADDITIONAL PHOTOS